Grand Opening Ceremony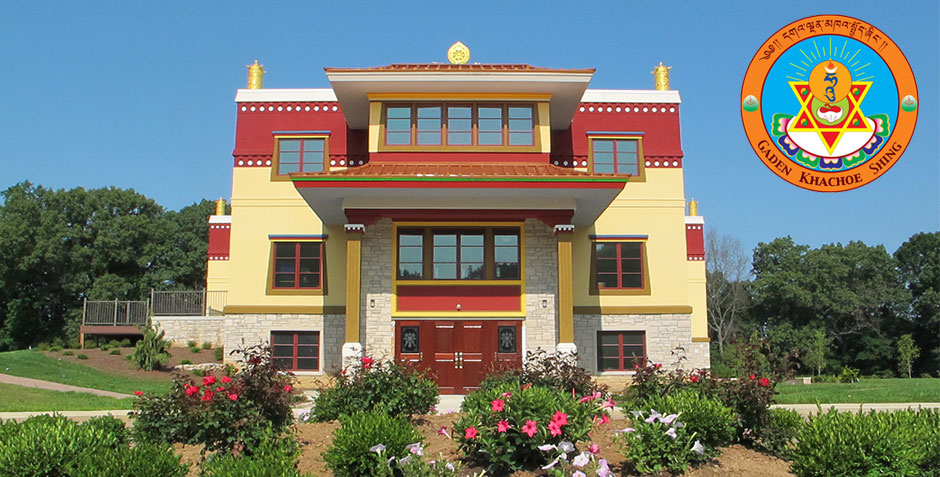 It is with joy that we announce the opening of the main temple of Gaden KhachoeShing Monastery in Bloomington, IN. Gaden KhachoeShing is a place where Buddhist monks, nuns, and lay students from around the world will be able to study, realize, and preserve for the future the precious teachings of the great 15th century Buddhist master Je Tsongkhapa of Tibet.
The opening of the temple, which has been under construction for fewer than two years, will be held October 4-5 on the monastery grounds at 2150 East Dolan Rd, Bloomington, IN 47408, USA.
The swift and harmonious building of this temple was made possible by the blessings of the great lineage protector Dorje Shugden and many important lineage masters. It is the fruit of years of hard work and the generosity of our resident teacher, Ven. Kuten Lama; our resident monk Ven. Jamyang Lama; members of the monastery board and local community, and countless devoted practitioners and dharma friends from around the world.
All who have participated in creating this place to preserve Tsongkhapa's teachings have done so with a deep wish to relieve suffering and bring love, compassion, and wisdom into our troubled world. If you are able to attend the events of the opening, and rejoice and practice with us, you will accumulate much positive merit on your spiritual journey. To ease your planning, we have gathered together on this web site a schedule of events, information about transportation, lodging, restaurants, and other important information. We will update the site regularly as new information becomes available.
Opening Events
(All events are wheelchair-accessible. Handicapped parking is also available.)
Please RSVP, using one of these options:
Email: dgtl@ganden.org
Phone: (812) 334.3456
Post: 2150 East Dolan Rd, Bloomington, IN. 47408 USA
Friday, October 3rd
| | |
| --- | --- |
| 7:00 am | Prayers |
| 9:30 am | Smoke offering and installation of prayer flags |
| 10:00 am | Invocation and Heruka Lama Choepa with tsog offering |
Saturday, October 4th
| | |
| --- | --- |
| 10:00 am | Consecration of assembly hall and statues |
| 1:00 pm | Guest check-in for Opening Ceremony |
| 2:00 pm | Ribbon-cutting with honored guests |
| 5:30 pm | International banquet |
| 7:30 pm | Multicultural concert |
Sunday, October 5th
| | |
| --- | --- |
| 10:00 am | Long life offering |
Transportation
Flights
The nearest airport to Bloomington is the Indianapolis Airport. It is close to an hour to Bloomington by car, so you will need to arrange suitable transportation. Shuttle, limousine, and rental car options are listed below. We also invite you to contact the monastery – to see if a member of our community is available to drive you to and from the airport (see driver option).
Shuttles to and from Indianapolis Airport
Go Express. This shuttle service delivers to and from the Indianapolis Airport, for $20 one way, if purchased at airport kiosk, or $18 if reserved online. It picks up and delivers at Zone 1, Ground Transportation Center, Indianapolis Airport, and picks up and delivers at Courtyard-Marriott and Holiday Inn in Bloomington. http://goexpresstravel.com/airport_shuttle_schedule
Star of America. This shuttle service also picks up and delivers at Zone 1, Ground Transportation Center, Indianapolis Airport, and picks up and delivers at the Hampton Inn or the Hilton Garden Inn in Bloomington. Cost: $15 one-way when purchased online, $19 when purchased on the bus. http://www.soashuttle.com/locations/bloomington-to-indianapolis/
Limousine Service to and from Indianapolis Airport
Classic Touch Limousine Service. A shared ride to or from Indianapolis Airport starts at $86.25 one way for one passenger and $116.25 one way for two passengers. A private car starts at $150.00 one way. These prices include fees and gratuities. Phone: (812) 339-7269. http://www.classictouchlimo.com/airport.html
Rental Cars
We have negotiated a 10% discount on rental cars with Ace Rental. To get the discount, go to www.acerentacar.com and enter the promo code GADEN. If you have any difficulties, contact Jenny Copas at 317-241-3039 or jcopas@acerentacar.com.
Highway Access
Two major state highways will take you into Bloomington -- Indiana Highway 37, which runs north-south from Indianapolis (in the north) to Interstate 64 (in the south) and Indiana Highway 46, which runs east-west from Columbus (in the east) to Terre Haute (in the west). The monastery is on the north side of town – off Old State Road 37. If you are driving south from Indianapolis on Hwy 37, take the North Walnut St/College Avenue ramp.
Directions in town
At the stoplight on the corner of Walnut St. and Old State Road 37, turn east. (If you were headed to our original monastery, DGTL, you would turn west). Travel 3.1 miles until you see New Prospect Baptist Church on your left and a yellow mailbox on your right. Immediately after the church is Dolan Road, a hilly gravel road. Dolan Road is .2 miles past El Currie Pike Road (if you reach E. Bolting house Road, you've gone too far). Turn left and then travel up this road to the very end; volunteers will then guide you where to park. Handicapped parking is available.
Taxis and other transportation in town
If you are staying in Bloomington without a car, you will not be able to get to the monastery via city bus, so, you will need to summon a taxi or arrange for someone in our community to drive you (see driver, option.) If you are traveling by taxi and can provide the address of the place where you are staying, along with the address of the monastery (2150 E. Dolan Road, Bloomington, Indiana 47408), the company should be able to estimate the cost each way.
Yellow cab: (812) 339-9744
Red Tire Taxi: (812) 269-2690
White Cab Company: (812) 334-8294
Driver
To arrange for a member of our community to drive you to and from the airport or to and from the monastery in town, please tell the monastery when you rsvp. For those flying to and from Indianapolis, we will do our best to accommodate you and any other visitors with flights close in time. We will also do our best to provide drivers for those who need assistance in town.
Lodging
We have set up special group rates with hotels within miles of the monastery located at 2150 E. Dolan Road, Bloomington, Indiana 47408. (See listing below). When you call these hotels, please mention that you will be visiting for October opening of Gaden KhachoeShing monastery. You will need to reserve by a deadline for each of these hotels, so be sure to check! Several of these offers will expire on dates in August! (If the reservation date has expired, please check with the contact person, to see if you can still use our negotiated group rate.) The hotels are likely to fill up fast, as this is a football weekend at the university, so the earlier the better.
In addition to these hotels, there are many other hotels in Bloomington, which you can find on the Bloomington Visitor's Center site. But again, it is a football weekend, so make your reservations early: http://www.visitbloomington.com/?gclid=CJq8poOkhsACFahaMgod_ncAuA
Another lodging option is to search out local, affordable accommodations in Bloomington residents' homes, using the national online website for airbnb's: https://www.airbnb.com/s/Bloomington--IN Or the national couch surfing website: www.couchsurfing.com There are not very many of these options, so if you are interested, look now.
You are also welcome to camp. We will setup special camping grounds for the event, with access to toilets and showers.
The hotels near the monastery with whom we've negotiated special rates are listed below. Please pay attention to promotional codes and deadlines for reserving and canceling a room.
Restaurants
Bloomington is home to many fine restaurants. Our "Restaurant Row," which offers a variety of ethnic cuisine, is located west of the Indiana University campus on Fourth St. You can find other fine dining in and around the downtown square. But there are great places to eat elsewhere in town too. For a listing of city restaurants, see the restaurants section on the web site of the Bloomington Visitor's Center: http://www.visitbloomington.com/visitors/restaurants/
You can check out the menus of a wide range of our city's eating spots on the site of Mr. Delivery, a food delivery service: https://mrdelivery.com/browse/bloomington
Grocery Stores
Chain groceries
The chain grocery closest to the monastery is Marsh Supermarket at 1825 N. Kinser Pike. If you prefer Kroger, a large Kroger store is located by College Mall, the primary spot for department store shopping. (Boutique shopping is concentrated downtown and in Fountain Square, an inside mall on the south side of the downtown square).
Marsh Supermarket: 1825 N. Kinser Pike, (812) 335-6760
Kroger by the Mall: 1175 S College Mall Rd, (812) 333-5766
Health foods
For organic health foods try our home-grown cooperative grocery called Bloomingfoods: The main store is east of College Mall, but there's a nice, smaller one on 6th street west of the town square between College and Rogers. http://www.bloomingfoods.coop/
Bloomingfoods East (main store): 3220 E. 3rd St. (812) 336-5400
Bloomingfoods West (west of the square): 316 W. 6th St, (812) 333-7312
International groceries
Indiana University's large international student population has given rise to many international groceries. These include:
Sahara Mart East
2611 E. Third
Bloomington, IN 47401
(812) 339-6222
Saraga Oriental Market (by Kroger near the Mall)
1305 S College Mall Rd
Bloomington, IN 47401
(812) 330-1821
B-town International Market (near College Mall)
2901 E Covenanter Dr
Bloomington, IN 47401
Weather
Weather is changeable at this time of year, so it would be wise to check national weather sites before you visit. Here are two: